We are very happy to announce releasing the great split "2 Bone Chilling Shockers" between BRUTALCORE and GORE OBSESSED.
The all-new CD consists of unrelenting, brutal songs by the Turkish death metallers, BRUTALCORE, and GORE OBSESSED, the Dutch one-man death metal band.
Tracklist:
Brutalcore
01. Collapsed Towers
02. Zombie Mater
03. Carrion Kind Of Society
04. Dead & Buried (Mortician Cover)
Gore Obsessed
05. Rotting Cunt Of A Dead Whore
06. Four Teenage Fucks & A Maniac
07. A Case Of Medical Malpractice
08. Bathroom Molester
09. I'm a Necrophile
10. Driller Killer
11. Slaughterhouse (Mortician Cover)
For Album Cover Picture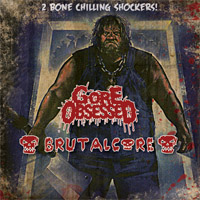 In the meantime, please visit bands' MySpace pages to listen to selected tracks:
www.myspace.com/brutalcore
www.myspace.com/goreobsessedmetal
Traders welcome!
http://distro.extreminal.com
distro@extreminal.com