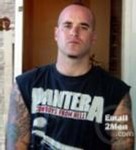 one of his users on ebay is this one, necroclast:
http://www.ebay.ph/usr/necroclast
some of his users on discogs are these, murphy74, steve4w, steve4m:
http://www.discogs.com/user/murphy74
http://www.discogs.com/user/steve4w
http://www.discogs.com/user/steve4m
his email and adress:
mymurphyclan@yahoo.com
12426 36 st ne
lake stevens, washinton, 98258
United States
this is some of the crap that he vomits from his little brain:

you had one bad Exp and its your fault stop being a Cray baby
and go eat some Beans . and Tacos. and beat up your girlfriend
and your country is like 30 years behind us
you guys like to listen to Scorpions and Dokken those band are huge over there
all that grabage jajajajajajajajajjajaj or wait hahahahahahahaha
bean Dip Repeat USA USA USA the greatest Country ever
that everybody want to live no body want to live in your 3rd world shithole


say what i dont think if someone sent Registerd shipping
witch isnt true, you dont send it with that
your a dirt bag scum fucker who eats Burritos everyday
and masterbate to gay men i live in the mighty usa
you ripped me off and tried to get away with it
your a scum bag piece of shit
thats why you live in a 3rd world shit hole country


my feeedback is perect ive never ripped anybody off
your problem is just like all the sellers
when you shit dosent come you want to not pay
did win my case yes there is a reason i won my case
you dumb ass cause your item never came
not my fault....... i would love to fight you
have you seen my photo on my ebay
yeah thats what i thought
your a pussy been dip Taco head


look at my feedback perfect all from buying mine is better then yours i spend thousand and love to collect
i just found you on facebook,, small world
taco head,, go eat beans


i didnt rip off anybody,, im glAD you canceld,,, cause i just bought and paid for Defaced compilation go eat some tacos.. spain is a shithole country ,,
im in USA big difference,,, im sorry you guys take naps,,, ever day ,,
get a real job,, and how dare you talk to a woman this way
finding negative feedback on his ebay user itīs very difficul because ebay doesnīt let sellers to left negative feedback to fraudulent buyers like this. but if you look for a while you can find negative coments like this:
-This is NEGATIVE. Sellers Beware,this is a very strange individual.
http://feedback.ebay.ph/ws/eBayISAPI.dll?ViewFeedback2&ftab=FeedbackAsBuyer&userid=necroclast&iid=-1&de=off&items=25&interval=0&mPg=16&page=7
if you check the feedbacks that he has left, you also wil find some surprises and negative comments from sellers that have been scamed by this RIP-OFF:
http://feedback.ebay.ph/ws/eBayISAPI.dll?ViewFeedback2&ftab=FeedbackLeftForOthers&userid=necroclast&iid=-1&de=off&items=25&mPg=18&page=18